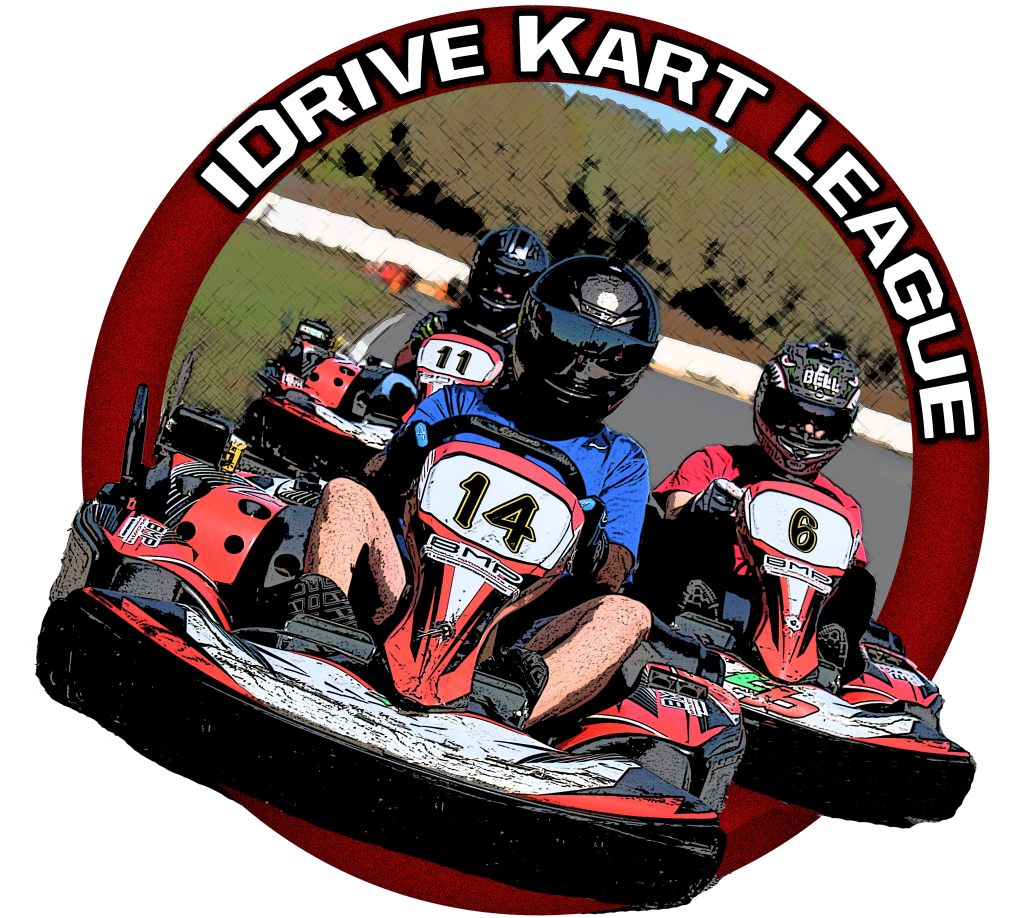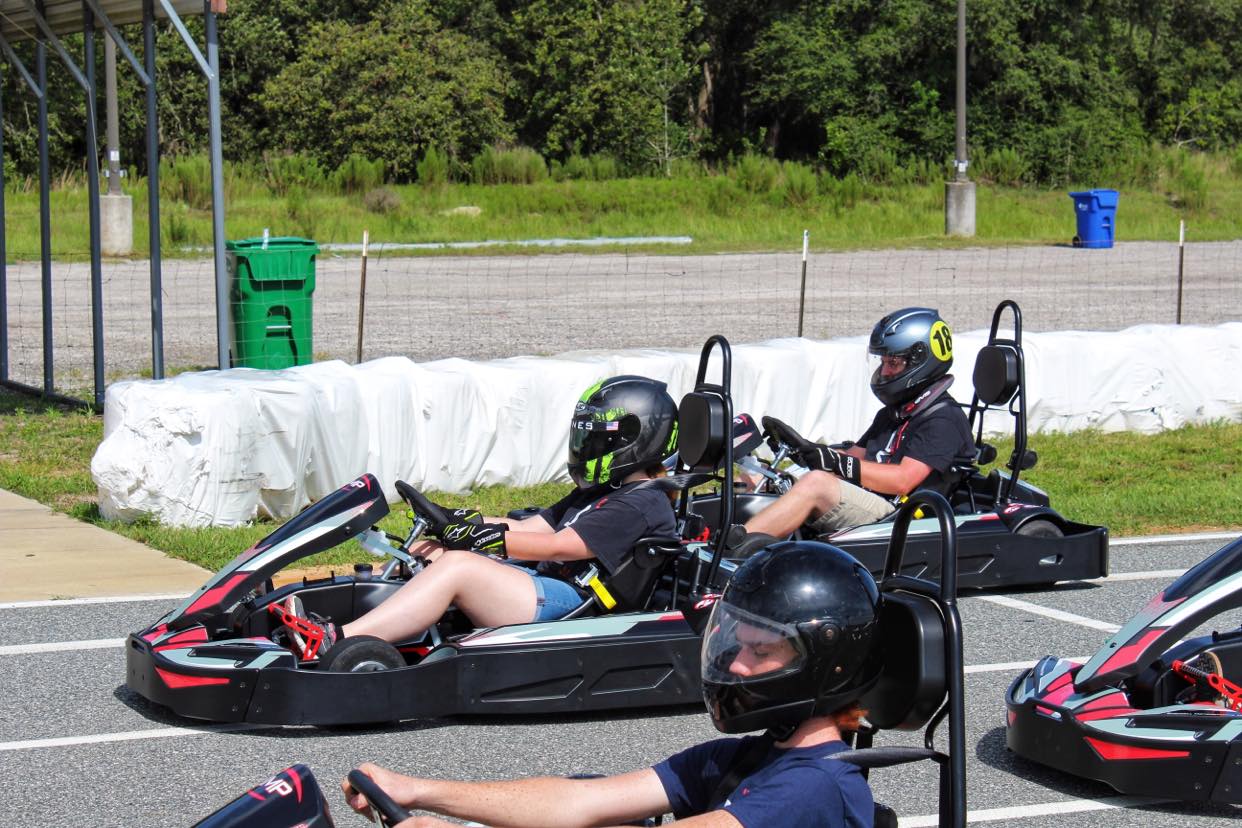 The BMP iDrive Rental Kart League Series puts you in the drivers seat for competitive, fun and intense wheel-to-wheel racing action. All you do is show up – we provide the rest. We supply everything you need to win. All racers will be using karts prepared by Bushnell Motorsports Park to ensure a consistent and level playing field, leaving the rest up to the skill of the driver.
The Fall Series will consist of 10 races on 5 dates. Racers compete and receive points based on their finishing spot for each Feature Race. These points accumulate for season-end awards. Drivers will count their best 8 out of the 10 races towards the championship points.
Every person will be weighted up to 210lbs. Anyone over 210lbs will not need to add weight.
Racers do not have to sign up for the entire series to race.
Price: $80 + tax per night
If we need to split into an A main and a B main, the 1st and 2nd place of the B main will transfer to the back of the field for the A main.
6:00 – 7:15 pm – Event Registration / Weigh in / Open 8-Min Qualifying Heats
7:15 pm – Drivers Meeting
7:30 – 8-minute Last Chance Qualifying
Feature Race(s) – Dependent on Track Layout
May 20th – 8 minute practice/qualifying, 2 – 10 Lap Feature Races (Full Track Layout)
June 3rd – 8 minute practice/qualifying, 2 – 14 Lap Feature Races (Little S Layout)
June 17th – 8 minute practice/qualifying, 2 – 10 Lap Feature Races (Pedro Loop)
July 1st – 8 minute practice/qualifying, 2 – 10 Lap Feature Races (Big S Track)
July 15th – 8 minute practice/qualifying, 2 – 12 Lap Feature Races (Outer Loop Track)
1st Place – $225 BMP Gift Card, Event Winner T-Shirt, and Name on the BMP Champion's Trophy
2nd Place – $175 BMP Gift Card
3rd Place – $130 BMP Gift Card
4th Place – $100 BMP Gift Card
5th Place – $70 BMP Gift Card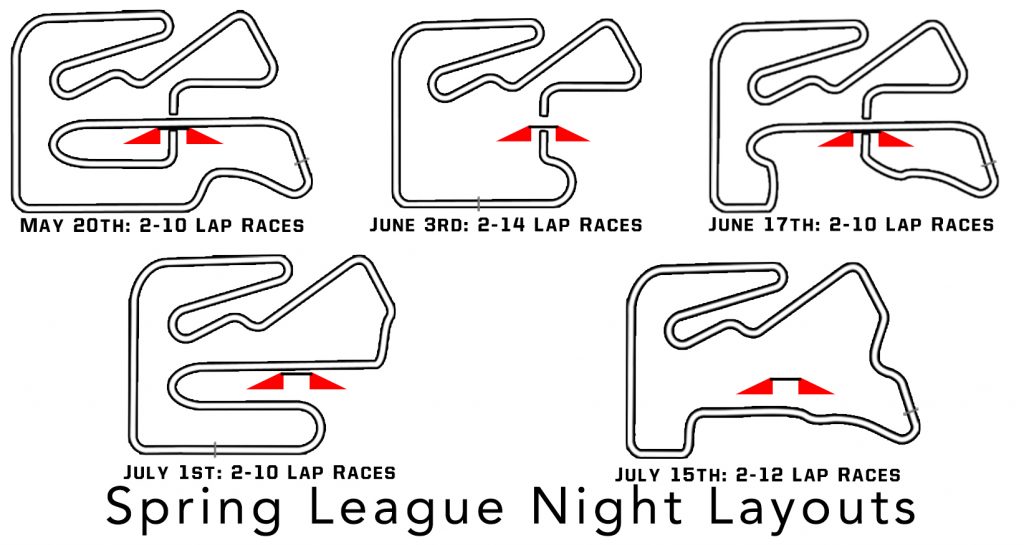 iDrive Winter Series Points
| | | Race 1 | Race 2 | Race 3 | Race 4 | Race 5 | Race 6 | Race 7 | Race 8 | Race 9 | Race 10 | Total | |
| --- | --- | --- | --- | --- | --- | --- | --- | --- | --- | --- | --- | --- | --- |
| 1 | Matthew | 45 | 50 | 50 | 50 | 0 | 0 | 44 | 45 | 50 | 47 | 381 | |
| 2 | Bowtie | 0 | 44 | 47 | 45 | 45 | 50 | 50 | 50 | 43 | 0 | 374 | |
| 3 | Brennan | 0 | 0 | 43 | 44 | 42 | 43 | 43 | 43 | 39 | 42 | 339 | |
| 4 | Buddybryan3 | 44 | 40 | 38 | 43 | 41 | 0 | 45 | 47 | 0 | 39 | 337 | |
| 5 | Car54 | 34 | 43 | 42 | 41 | 0 | 0 | 0 | 0 | 47 | 50 | 257 | |
| 6 | lownslow | 26 | 26 | 31 | 30 | 0 | 0 | 37 | 38 | 31 | 32 | 251 | |
| 7 | fletch | 40 | 38 | 45 | 38 | 43 | 39 | 0 | 0 | 0 | 0 | 243 | |
| 8 | Joey | 22 | 23 | 24 | 22 | 0 | 0 | 35 | 37 | 28 | 29 | 220 | |
| 9 | trent | 29 | 27 | 41 | 40 | 0 | 0 | 0 | 0 | 40 | 40 | 217 | |
| 10 | Johnny | 31 | 29 | 39 | 39 | 0 | 0 | 0 | 0 | 41 | 37 | 216 | |
| 11 | Racer25z | 43 | 41 | 44 | 47 | 0 | 0 | 0 | 0 | 0 | 0 | 175 | |
| 12 | tony sansom | 0 | 0 | 0 | 0 | 50 | 42 | 0 | 0 | 37 | 36 | 165 | |
| 13 | Lyon | 0 | 0 | 36 | 36 | 47 | 45 | 0 | 0 | 0 | 0 | 164 | |
| 14 | adrian | 0 | 0 | 0 | 0 | 0 | 0 | 41 | 42 | 33 | 34 | 150 | |
| 15 | JDVerrill | 0 | 0 | 33 | 35 | 39 | 41 | 0 | 0 | 0 | 0 | 148 | |
| 16 | doochie 38 | 0 | 0 | 29 | 27 | 37 | 38 | 0 | 0 | 0 | 0 | 131 | |
| 17 | Speed Racer | 25 | 30 | 34 | 32 | 0 | 0 | 0 | 0 | 0 | 0 | 121 | |
| 18 | Zach Maddox | 23 | 24 | 32 | 37 | 0 | 0 | 0 | 0 | 0 | 0 | 116 | |
| 19 | Matt | 21 | 22 | 28 | 31 | 0 | 0 | 0 | 0 | 0 | 0 | 102 | |
| 20 | clay | 0 | 0 | 0 | 0 | 0 | 0 | 33 | 33 | 30 | 0 | 96 | |
| 21 | Racinjason | 50 | 45 | 0 | 0 | 0 | 0 | 0 | 0 | 0 | 0 | 95 | |
| 22 | Bobby M | 18 | 21 | 0 | 0 | 0 | 0 | 0 | 0 | 27 | 28 | 94 | |
| 23 | ooahuece | 47 | 45 | 0 | 0 | 0 | 0 | 0 | 0 | 0 | 0 | 92 | |
| 24 | delle | 0 | 0 | 0 | 0 | 0 | 0 | 47 | 44 | 0 | 0 | 91 | |
| 25 | m.henderson | 0 | 0 | 0 | 0 | 0 | 0 | 0 | 0 | 44 | 44 | 88 | |
| 26 | clydetorkle | 0 | 0 | 0 | 0 | 40 | 47 | 0 | 0 | 0 | 0 | 87 | |
| 27 | cW | 0 | 0 | 0 | 0 | 0 | 0 | 0 | 0 | 42 | 43 | 85 | |
| 228 | mesoscale | 0 | 0 | 40 | 42 | 0 | 0 | 0 | 0 | 0 | 0 | 82 | |
| 29 | TheRealKyle | 42 | 39 | 0 | 0 | 0 | 0 | 0 | 0 | 0 | 0 | 81 | |
| 30 | bad boy | 0 | 0 | 0 | 0 | 0 | 0 | 42 | 39 | 0 | 0 | 81 | |
| 31 | miller | 0 | 0 | 0 | 0 | 0 | 0 | 39 | 41 | 0 | 0 | 80 | |
| 32 | Steve0 | 0 | 0 | 0 | 0 | 0 | 0 | 0 | 0 | 38 | 41 | 79 | |
| 33 | johnny69 | 0 | 0 | 0 | 0 | 38 | 40 | 0 | 0 | 0 | 0 | 78 | |
| 34 | graydon | 0 | 0 | 0 | 0 | 0 | 0 | 40 | 36 | 0 | 0 | 76 | |
| 35 | WRC | 33 | 42 | 0 | 0 | 0 | 0 | 0 | 0 | 0 | 0 | 75 | |
| 36 | tootall | 0 | 0 | 0 | 0 | 0 | 0 | 34 | 40 | 0 | 0 | 74 | |
| 37 | Sbruce | 37 | 36 | 0 | 0 | 0 | 0 | 0 | 0 | 0 | 0 | 73 | |
| 38 | bombom | 0 | 0 | 0 | 0 | 0 | 0 | 38 | 35 | 0 | 0 | 73 | |
| 39 | jboyd691 | 39 | 33 | 0 | 0 | 0 | 0 | 0 | 0 | 0 | 0 | 72 | |
| 40 | Goon da GP | 38 | 34 | 0 | 0 | 0 | 0 | 0 | 0 | 0 | 0 | 72 | |
| 41 | Lance | 36 | 35 | 0 | 0 | 0 | 0 | 0 | 0 | 0 | 0 | 71 | |
| 42 | titan | 0 | 0 | 0 | 0 | 0 | 0 | 36 | 34 | 0 | 0 | 70 | |
| 43 | Racer Truck | 0 | 0 | 0 | 0 | 0 | 0 | 0 | 0 | 34 | 35 | 69 | |
| 44 | Michael | 0 | 0 | 35 | 33 | 0 | 0 | 0 | 0 | 0 | 0 | 68 | |
| 45 | BillionFeather | 0 | 0 | 0 | 0 | 0 | 0 | 0 | 0 | 36 | 30 | 66 | |
| 46 | JREV | 0 | 0 | 0 | 0 | 0 | 0 | 0 | 0 | 32 | 33 | 65 | |
| 47 | WINGZ | 32 | 32 | 0 | 0 | 0 | 0 | 0 | 0 | 0 | 0 | 64 | |
| 48 | Hkoo_ | 0 | 0 | 27 | 34 | 0 | 0 | 0 | 0 | 0 | 0 | 61 | |
| 49 | JohnDorn | 0 | 0 | 0 | 0 | 0 | 0 | 0 | 0 | 29 | 31 | 60 | |
| 50 | tony | 28 | 31 | 0 | 0 | 0 | 0 | 0 | 0 | 0 | 0 | 59 | |
| 51 | Rory | 30 | 25 | 0 | 0 | 0 | 0 | 0 | 0 | 0 | 0 | 55 | |
| 52 | JBM | 0 | 0 | 30 | 25 | 0 | 0 | 0 | 0 | 0 | 0 | 55 | |
| 53 | RickyBobby | 0 | 0 | 26 | 29 | 0 | 0 | 0 | 0 | 0 | 0 | 55 | |
| 54 | Chandler | 24 | 28 | 0 | 0 | 0 | 0 | 0 | 0 | 0 | 0 | 52 | |
| 55 | jeff | 0 | 0 | 25 | 26 | 0 | 0 | 0 | 0 | 0 | 0 | 51 | |
| 56 | Django | 0 | 0 | 23 | 23 | 0 | 0 | 0 | 0 | 0 | 0 | 46 | |
| 57 | Rob | 0 | 0 | 22 | 24 | 0 | 0 | 0 | 0 | 0 | 0 | 46 | |
| 58 | Trevor Easton | 27 | 18 | 0 | 0 | 0 | 0 | 0 | 0 | 0 | 0 | 45 | |
| 59 | Robemax351 | 0 | 0 | 21 | 21 | 0 | 0 | 0 | 0 | 0 | 0 | 42 | |
| 60 | Jay S | 20 | 19 | 0 | 0 | 0 | 0 | 0 | 0 | 0 | 0 | 39 | |
| 61 | AP | 19 | 20 | 0 | 0 | 0 | 0 | 0 | 0 | 0 | 0 | 39 | |
| 62 | Jonny Shurcoch | 0 | 0 | 37 | 0 | 0 | 0 | 0 | 0 | 0 | 0 | 37 | |
| 63 | KibaJ | 17 | 17 | 0 | 0 | 0 | 0 | 0 | 0 | 0 | 0 | 34 | |
| 64 | greg | 16 | 16 | 0 | 0 | 0 | 0 | 0 | 0 | 0 | 0 | 32 | |
| 65 | Russ Man | 0 | 0 | 20 | 0 | 0 | 0 | 0 | 0 | 0 | 0 | 20 | |
| 66 | Megan | 0 | 0 | 19 | 0 | 0 | 0 | 0 | 0 | 0 | 0 | 19 | |