TB R13 Fleet
18 Karts - Honda 270cc with 2:1 gearbox
Features:
Honda 270cc engine with 2:1 gear reduction.
Belt drive.
Fiberglass seats
Karts will come with rims, no tires.
Adjustable pedals.
Anti-gas brake system.
These are the open tire sport models.
Engines are set up for external electric starter, but internal components are still intact for a pull rope start if desired.
Karts have weight boxes to balance driver weights, does not include the weight.
Extras:
We have 2 additional [bent] frames.
We also have the front plastic surround if you want to make the front tires enclosed (the sport version has open tires).
Some spare TB Parts from the 2 bent framed karts that include spindles, brake pads, tie rods, hime joints, rubber dampers, spare plastic, brake calipers, etc.
Purchased in 2017. We've used them as our fleet of go karts for 3 years now. You will need to purchase your own sticker kit.
Shipping is available at an additional charge. Located in Florida.
Fleet Price – $45,000.00 or Call for single kart pricing.
These karts are not recommended for sanctioned competition events.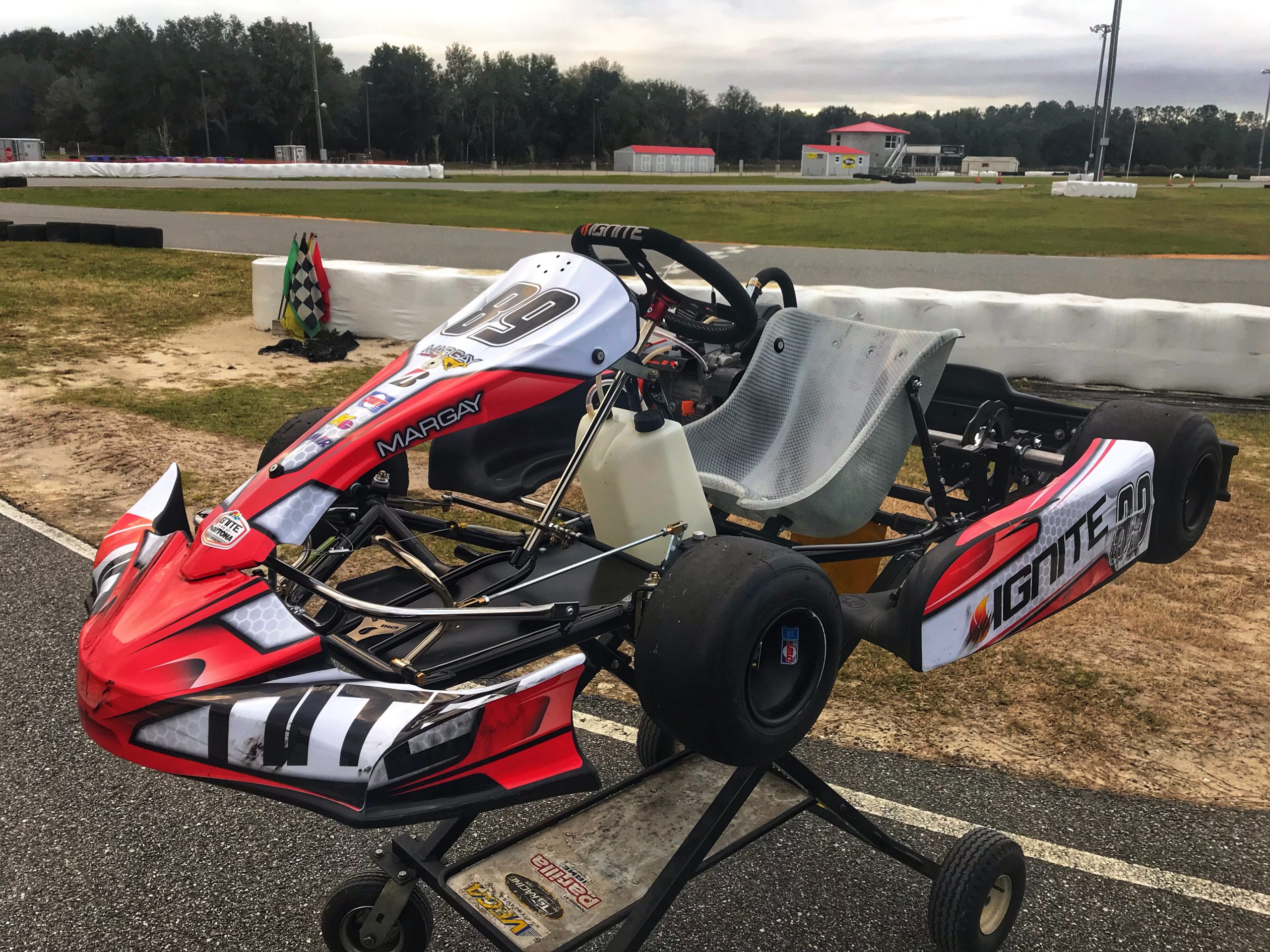 2018 MARGAY IGNITE K3 $4,000
+TAX
This 2018 Margay Ignite K3/Briggs 206 package has 2 race weekends on it. It comes with 1 set of Vega Red tires. The popular Ignite K3 chassis and the fastest growing engine program make this package a perfect starter kit for anyone trying to get into kart racing or a seasoned veteran looking for quality American championship products. A true turnkey package where all you have to do is add gas and go! Add a kart stand for $200
2016 MARGAY IGNITE K2 $2,200
+TAX 
This 2016 Margay Ignite K2 is perfect for any 8-12 year old trying to get into karting. It has about 30 race days on it, comes with a set of Vega Red (VAH) already installed and 2 free months of storage. Comes with 2 extra nerf bars and side pods,  and 4 extra 5″x5″ rims. Add a new Briggs 206 engine for $950.