The BMP 55+ Senior League Series puts you in the drivers seat for competitive, fun and intense wheel-to-wheel racing action. All you do is show up – we provide the rest. We supply everything you need to win. All racers will be using karts prepared by Bushnell Motorsports Park to ensure a consistent and level playing field, leaving the rest up to the skill of the driver.
Every Friday in October, starting at 2:45, we will have 2-8 Lap Races and points will be awarded for each race. At the end of the month, the racer with the most points will win a free day of unlimited racing for you and a friend. Entry is $40 and there is no limit on how many people can participate.
You may practice as may times as you'd like for $15 before the race using our Senior Speed special!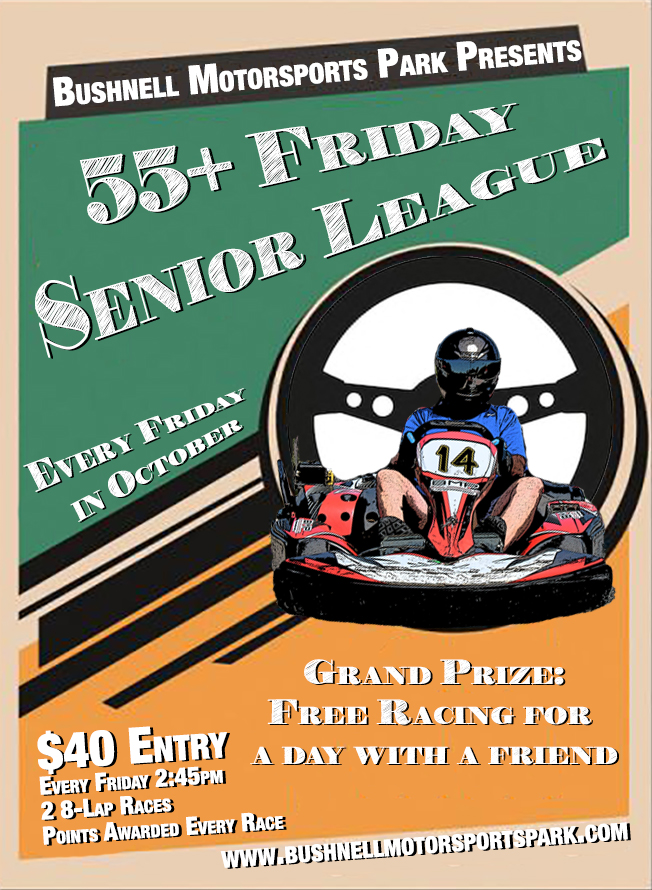 | | | Race 1 | Race 2 | Race 3 | Race 4 | Race 5 | Race 6 | Race 7 | Race 8 | Total |
| --- | --- | --- | --- | --- | --- | --- | --- | --- | --- | --- |
| 1st | Johnny Lightning | 47 | 50 | | | | | | | 97 |
| 2nd | Silver Fox | 50 | 47 | | | | | | | 97 |
| 3rd | Tim7175 | 45 | 45 | | | | | | | 90 |
| 4th | speedo | 44 | 43 | | | | | | | 87 |
| 5th | Solo2 | 42 | 44 | | | | | | | 86 |
| 6th | FastGeorgie | 43 | 42 | | | | | | | 85 |
| | | Race 1 | Race 2 | Race 3 | Race 4 | Race 5 | Race 6 | Race 7 | Race 8 | Total |
| --- | --- | --- | --- | --- | --- | --- | --- | --- | --- | --- |
| 1st | Johnny Lightning | 50 | 47 | 50 | 50 | 45 | 50 | 50 | 50 | 392 |
| 2nd | speedo | 44 | 45 | 43 | 43 | 43 | 43 | 47 | 47 | 355 |
| 3rd | MARK H | 42 | 43 | 39 | 45 | 47 | 45 | 0 | 0 | 261 |
| 4th | WRC | 47 | 50 | 0 | 0 | 50 | 44 | 0 | 0 | 191 |
| 5th | halb35 | 43 | 41 | 0 | 0 | 44 | 47 | 0 | 0 | 175 |
| 6th | FastGeorgie | 40 | 42 | 42 | 41 | 0 | 0 | 0 | 0 | 165 |
| 7th | Buckeye58 | 0 | 0 | 40 | 40 | 42 | 42 | 0 | 0 | 164 |
| 8th | Cblom | 0 | 0 | 45 | 47 | 0 | 0 | 0 | 0 | 92 |
| 9th | Sweet Potato | 45 | 44 | 0 | 0 | 0 | 0 | 0 | 0 | 89 |
| 10th | Tim7175 | 0 | 0 | 47 | 42 | 0 | 0 | 0 | 0 | 89 |
| 11th | Solo2 | 0 | 0 | 44 | 44 | 0 | 0 | 0 | 0 | 88 |
| 12th | roy carter | 41 | 40 | 0 | 0 | 0 | 0 | 0 | 0 | 81 |
| 13th | Danny | 0 | 0 | 41 | 39 | 0 | 0 | 0 | 0 | 80 |
| 14th | Doug | 39 | 39 | 0 | 0 | 0 | 0 | 0 | 0 | 78 |